"So maybe Arcadia Bay will actually turn out to be the island
of treasure and adventure I've been looking for..."

— Max Caulfield in her diary on August 18, 2013

Arcadia Bay is a picturesque seaside town in Oregon, United States. It was originally inhabited and founded by Native Americans, as mentioned by Ms. Grant. According to her, when the settlers arrived they lived peacefully with one another.
In Life is Strange, the town is experiencing strange weather and other phenomena that is somehow linked to Max Caulfield's time-controlling abilities. 
A snowstorm ends Episode 1: Chrysalis, and an eclipse ends Episode 2: Out of Time, while the reoccurring deaths of animals are seen throughout Episode 3: Chaos Theory, and a double moon appears at the end of Episode 4: Dark Room. In Episode 5: Polarized, Arcadia Bay's fate is in the player's hands as it can be destroyed by the tornado in Max's visions.
Arcadia Bay's main source of commerce was fishing, which has now all dried up due to the Prescott family's doing.
Locations
Edit
Arcadia Bay Fire Department
Lumber Mill
Known Residents
Edit
Former Residents
Edit
Wildlife
Edit
Main article: Wildlife
Arcadia Bay has a large and diverse range of wildlife. It varies from different types of birds to the various deer that you see throughout the episodes of the game. However, not much is said regarding the different types of animal species in Arcadia Bay.
Symbolism
Edit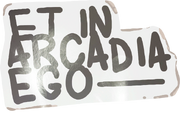 The name "Arcadia" was deliberately chosen for the symbolism it bears. Arcadia is a utopia introduced in Greek and Latin mythology, which is full of flowers, fruits and forests. In an interview writer Christian Divine explained that "it just sounded more peaceful and mystic, and the word 'Arcadia' has all these connotations that would be fun to play with and contrast with the darkness that's actually going on in the town. It has all these different representations and metaphors that you can look in to and work with."[1]
"Even in Arcadia, there I am."
Inspirations
Edit
In construction.
The developers conducted research on the setting by traveling to the Pacific Northwest — particularly the Tillamook Bay area — for the purpose of conveying a nostalgic and autumnal feel to the game. The development team visited the region, took photographs, looked at local newspapers and used Google Street View to make sure the environment was accurately portrayed.[2]
Locations
Edit
Menu Screens
Edit
Early Logo Concepts
Edit
References
Edit
↑ 1.0 1.1 From 'Dungeons & Dragons' to 'Life Is Strange' – A Discussion with Writer Christian Divine
↑ 2.0 2.1 Edouard Caplain on the Art Behind Life Is Strange (February 9, 2016)
↑

The name of the game file suggests this belongs to William.

↑ This is how the radio host DJ Stan Stanwick addresses his audience when listening to the radio in Chloe's room in Before the Storm.
↑

His name is mentioned on the "25th Annual Happy Halloween Bazaar" flyer located just inside the entrance of the Two Whales Diner.