Auntie Marsh is Kate Marsh's aunt. In Episode 2, "Out of Time", she sent Kate a letter, in which she shamed Kate's actions in the viral video.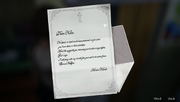 Dear Katie

No spirit or devil could have prepared me for what you have done in that videotape.
And like a jezebel you released your harlot image before God's eye.
I will pray with my church for your soul to be saved from Eternal Hellfire.


Auntie Marsh
Ad blocker interference detected!
Wikia is a free-to-use site that makes money from advertising. We have a modified experience for viewers using ad blockers

Wikia is not accessible if you've made further modifications. Remove the custom ad blocker rule(s) and the page will load as expected.