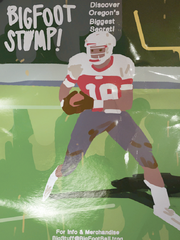 The
Blackwell Bigfoots
are the football team of
Blackwell Academy
. The club's name is based on the rumours of a Bigfoot living in the forests of
Arcadia Bay
.
Across the Blackwell campus, there are many references to the team in the form of posters and flyers. 
Dana also mentions the impending Bigfoots vs. Razorbacks game on Friday (the day of the tornado). The game will begin at 7pm on the Blackwell field.
Known Players
Edit
Known Games
Edit
October 11, 7PM - Bigfoots vs Sunnydale Razorbacks (Blackwell field)
November 4, 5PM - Bigfoots vs Oldport Slugs (Blackwell field)
November 6, 6PM - Bigfoots vs Dillon Panthers (outside of Arcadia Bay)
November 10, 5PM - Bigfoots vs Sunnydale Razorbacks (Blackwell field)
As evident from the Blackwell Hallway concept art, the Bigfoots were originally meant to be called "The Fishermen".
The Bigfoots sell merchandise which you can order at their e-mail address BigStuff@BigFootBall.trog.
Posters and Flyers
Edit
Illustrations
Edit
Ad blocker interference detected!
Wikia is a free-to-use site that makes money from advertising. We have a modified experience for viewers using ad blockers

Wikia is not accessible if you've made further modifications. Remove the custom ad blocker rule(s) and the page will load as expected.