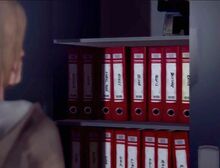 While in the Dark Room, Max Caulfield and Chloe Price find binders labeled with the names of several former Dark Room Victims that were captured, drugged, and photographed by Mark Jefferson.
Alexis
Ashley
Beverly
Brittany
Carol-Ann
Cassidi *
Chelsea *
Crystal *

Deanna
Kayla
Kelly
Lucy
Lula
Lynn
Marissa *
The names followed by * are not actually seen during the game but instead guessed from the game files (see the Notes section).
Rachel's Binder
Edit
Kate's Binder
Edit
Max's Binder
Edit
Ad blocker interference detected!
Wikia is a free-to-use site that makes money from advertising. We have a modified experience for viewers using ad blockers

Wikia is not accessible if you've made further modifications. Remove the custom ad blocker rule(s) and the page will load as expected.