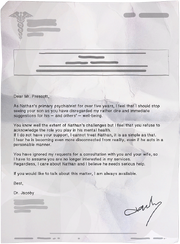 Dr. Jacoby is Nathan's psychiatrist. He is only mentioned in a letter from him to Sean Prescott which can be found in the Dark Room in Episode 4. It reads as follows:
Dear Mr. Prescott,

As Nathan's primary psychiatrist for over five years, I feel that I should stop seeing your son as you have disregarded my rather dire and immediate suggestion for his — and others' — well-being.

You know well the extent of Nathan's challenges but I feel that you refuse to acknowledge the role you play in his mental health. If I do not have your support, I cannot treat Nathan, it is as simple as that. I fear he is becoming even more disconnected from reality, even if he acts in a personable manner.

You have ignored my requests for a consultation with you and your wife so I have to assume you are no longer interested in my services. Regardless, I care about Nathan and I believe he needs serious help.

If you would like to talk about this matter, I am always available.

Best,

Dr. Jacoby
Ad blocker interference detected!
Wikia is a free-to-use site that makes money from advertising. We have a modified experience for viewers using ad blockers

Wikia is not accessible if you've made further modifications. Remove the custom ad blocker rule(s) and the page will load as expected.