Edouard Caplain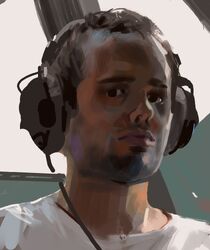 Concept Artist, Illustrator

Edouard Caplain is a French concept artist and illustrator working at DONTNOD Entertainment since October 2012. Next to his work on DONTNOD's first game, Remember Me, Caplain was heavily involved in the pre-production and visual development of their second game, Life is Strange, as Main Concept Artist.
Concept Art
Edit
Characters
Edit
Other Illustrations
Edit
N/A
(Kate's Drawing, Victoria's selfies, Profile pictures etc.)
Edouard Caplain is the creator and designer of Hawt Dawg Man from Life is Strange.
As evident from Edouard Caplain's Twitter posts, he played Life is Strange himself and really likes the game's protagonist Max. He also showed interest in playing the Japanese edition.
Interviews and Articles
Edit
External Links
Edit
References
Edit
Ad blocker interference detected!
Wikia is a free-to-use site that makes money from advertising. We have a modified experience for viewers using ad blockers

Wikia is not accessible if you've made further modifications. Remove the custom ad blocker rule(s) and the page will load as expected.