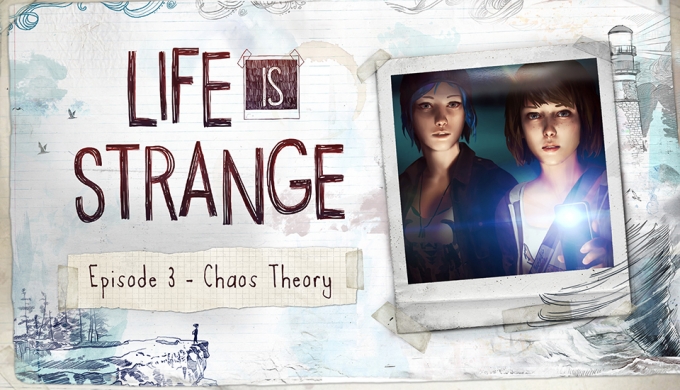 Note: This page contains spoilers for all the currently released episodes of the game.
"Chaos Theory" is the third episode of Life Is Strange. The episode was released May 19, 2015, and is available on PC, Mac, PS3, PS4, Xbox 360 and Xbox One.
When Max Caulfield and Chloe Price begin investigating the conspiracy surrounding Kate Marsh and Rachel Amber, the pieces of the puzzle surrounding Rachel's disappearance lead to answers, and the consequences of Max's powers lead to a conclusion that has devastating results on everyone she knows.
See here for diary entries and messages from this episode.
Checkpoints
Edit
Girls' Dormitories
Main Campus - Evening
High School - Evening
Swimming Pool - Evening
Parking Lot - Evening
Chloe's House - Upstairs
Chloe's House - Downstairs
Chloe's Truck
Main Campus - Noon
Chloe's House - Focus
Alternative Main Campus
Characters
Edit
Local Birds - Dead birds are seen in the backyard of the Madsen household.
Fish (Mentioned) - The fisherman mentions that there are no edible fish left in Arcadia Bay.
Humpback Whales - Humpback Whales can be seen laying on the beach while Max is on her way to Chloe's House in the alternative timeline. They are also there in the main timeline.
Lisa the Plant (Determinant) - Lisa might be found drowned or dehydrated depending on Max's earlier choices to water her twice or not watering her at all in the last two episodes.
Featured Music
Edit
Main article: Soundtrack
Reception
Edit
Chaos Theory has the second highest Metascore of all episodes on Metacritic with a Metascore of 80 and a User Score of 9.0.
IGN gave it a great 8.0 calling it a massive turn with a heartfelt and ambitious new story.
Achievements
Edit
There are twelve achievements the player can earn on Steam, PlayStation or Xbox.
Parallax View
 
Take optional photo #1 in Episode 3: Chaos Theory
Lenscrafted
Take optional photo #2 in Episode 3: Chaos Theory
The Reflex
 
Take optional photo #3 in Episode 3: Chaos Theory
Histogrammar
 
Take optional photo #4 in Episode 3: Chaos Theory
Bokeh
Take optional photo #5 in Episode 3: Chaos Theory
Pinholed
Take optional photo #6 in Episode 3: Chaos Theory
RAW Strength
Take optional photo #7 in Episode 3: Chaos Theory
Viewfinder
Take optional photo #8 in Episode 3: Chaos Theory
Optican
Take optional photo #9 in Episode 3: Chaos Theory
Flash!
Take optional photo #10 in Episode 3: Chaos Theory
Camera Eye
Take all optional photos in Episode 3: Chaos Theory
Chaos Theory
Finish Episode 3: Chaos Theory
The term "Chaos Theory" refers to the the study of "behaviors in dynamical systems that are highly sensitive to initial conditions" such as the butterfly effect.
If you go inside the Swimming Pool lockers and then rewind, Chloe says, "Dude, it's getting old! Try and dazzle me with another trick!"
The audio files for episode three, "Chaos Theory", contain a file called "VO_E3_6B.STM_pck-0000000043", featuring Officer Berry's voice: "Since you know so much about episode two, maybe you should tell me what's going on? I sure hope you're not proud of yourself for playing a leaked, incomplete game, and, if you do it again, next time you roll through Arcadia Bay might be your last time. Choose wisely."
With the patch update on January 19, 2016, the shopping bag with the eggs Max has to find for Joyce's breakfast was moved from the door to the kitchen probably due to a lot of complaints about how hard it was to find.
Ad blocker interference detected!
Wikia is a free-to-use site that makes money from advertising. We have a modified experience for viewers using ad blockers

Wikia is not accessible if you've made further modifications. Remove the custom ad blocker rule(s) and the page will load as expected.