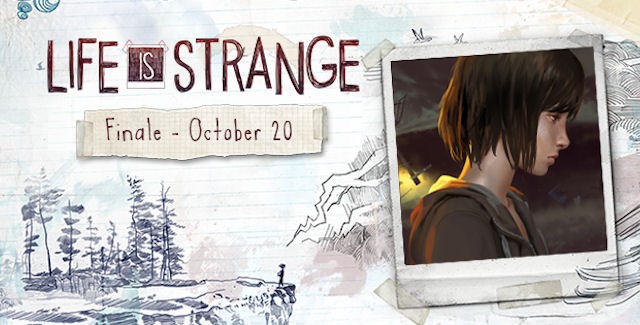 Game Statistics
Edit
Main article: Game Statistics#Episode Five
Major Choices Edit
In "Polarized", the only major choice to do is to make a final sacrifice between saving Chloe and allowing Arcadia Bay to be destroyed, presumably along with Max's friends and all its residents being killed, or saving Arcadia Bay and sacrificing Chloe by allowing her to die in the bathroom in order to prevent the tornado from occurring and thus sparing the town. Note, these are also the choices which cannot be rewound except focusing on the photo before the time Chloe died.
Sacrifice Arcadia Bay — 47% of players refused to allow Chloe to be sacrificed for the sake of preserving Arcadia Bay, and accepted the disastrous tornado produced by Max's time-traveling. As a result, the two best friends survive the tornado that leaves the town in ruins and is likely to kill many, if not the majority of its residents. In the aftermath of the destruction, Chloe and Max are seen driving through the town to witness the damage, before leaving Arcadia Bay together to an unknown destination.
Sacrifice Chloe — 53% of players chose to accept Chloe's request of sacrificing her for Arcadia Bay. Max travels back in time and does not interfere in Chloe's confrontation with Nathan. Later, Nathan is arrested for the death of Chloe and, while being interrogated, confesses about his affiliation with Mark Jefferson, the Dark Room, and Rachel Amber's disappearance, which also results in Jefferson's incarceration. Through Chloe's sacrifice, justice has been served, and the destruction of Arcadia Bay and the death of its residents has also been averted. Shortly after, Max attends Chloe's funeral and witnesses a blue butterfly landing on the casket.
Minor Choices Edit
David
David got a scar during the fight. - 96%
David didn't get a scar during the fight. - 4%
Mark Jefferson
David killed Jefferson. - 46%
David didn't kill Jefferson. - 54%
The Trucker
You saved the trucker. - 64%
You didn't save the trucker. - 36%
Evan
You saved Evan. - 66%
You didn't save Evan. - 34%
Alyssa
You saved Alyssa. - 68%
You didn't save Alyssa. - 32%
The Fisherman
You saved the fisherman. - 72%
You didn't save the fisherman. - 28%
Joyce
You helped Joyce believe in David again. - 38%
You didn't change Joyce's mind about David. - 62%
Frank
You told the truth about Rachel to Frank. - 68%
You didn't tell the truth about Rachel to Frank. - 32%
Warren
You kissed Warren. - 68%
You didn't show Warren any affection. - 6%
You hugged Warren. - 26%
Consequences
Edit
Main article: Choices and Consequences#Episode Five
Ad blocker interference detected!
Wikia is a free-to-use site that makes money from advertising. We have a modified experience for viewers using ad blockers

Wikia is not accessible if you've made further modifications. Remove the custom ad blocker rule(s) and the page will load as expected.