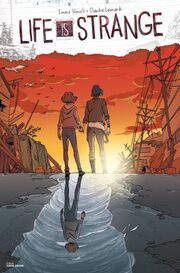 Life is Strange: Dust is an ongoing officially licensed four-part comic miniseries based on Life is Strange by Titan Comics that was launched on November 14, 2018.[1][2] The story of the comics is set one year after the events of the original Life is Strange, and is a continuation to the "Sacrifice Arcadia" ending. The series is written by Emma Vieceli with interior art by Claudia Leonardi[3] and coloring by Andrea Izzo.[4]
"Join Max & Chloe as they return to Arcadia Bay, charting the course of a possible future after one of the two endings of the game."
The first issue, "Life is Strange #1", which released on November 14, 2018, is 32 pages and sells for $3.99. On amazon.com, the "Life Is Strange Collection" is currently listed to be released in paperback format on May 21, 2019. It will be 112 pages and sells for $15.29/$16.99.[5]
There are 7 different cover versions available for the first issue[6], 4 for the second issue, 3 for the third issue and 3 for the fourth issue.
Synopsis
Edit
The following synopsis summary appears, so far, in Issues #1 and #2 of Dust:
"Mysteriously gifted with the power to rewind time, young photography student Max Caulfield became entangled in the dark secrets of Arcadia Bay. She used her strange new abilities to reconnect with her oldest friend, Chloe Price, and to bring to justice the men who had murdered Chloe's closest confidante, Rachel Amber. Max's temporal abilities came at a cost, however, creating a once-in-a-generation hurricane that threatened the town with total destruction, if Max didn't allow the original timeline - in which Chloe died of a gunshot wound - to play out. In one sequence of events, Max chose to save Chloe's life, sacrificing Arcadia Bay. And in a multiverse of infinite possibilities, this is one version of what happened next..."
Characters
Edit
First Issue
Edit
The first issue was released on November 14, 2018.
After recapping the "Sacrifice Arcadia" ending of the original Life is Strange, Max sits on a cliff contemplating her choice.
Next, Max is in Seattle in 2014, meeting up with Dex, Dwight, Pixie, and Tammi at The Bean Barn to have hot drinks and share photos. During their discussion, they are interrupted by a news coverage on Arcadia Bay.
Chloe brings Max into a bathroom to talk. Chloe makes note of the news coverage and mentions that the storm and its destruction are being used to cover up for the real events that happened involving Mr. Jefferson and Nathan.
Max and Chloe are invited to The High Seas' concert at The Bean Barn the next day. Before entering, Max and Chloe realize that Max no longer has control over her time travel powers. Inside, Chloe temporarily disappears and Max tries to find her. Chloe eventually decides they need to go back to Arcadia Bay after Max collapses.
Second Issue
Edit
On December 1, 2018, the second issue was announced to release on January 2, 2019. In a previous Titan Comics' Solicitation, it was originally scheduled for December 19, 2018.[7]
Max and Chloe drive towards Arcadia Bay while talking about their situation. Their truck breaks down and Chloe manages to repair it eventually. Shifts in the timeline are seen to occur in subtle visual details during these scenes (see Trivia section). Chloe also states she is fetching different things from her truck to repair it, confusing Max ("oil can" / "toolkit"). Max's nose bleeds and she wipes it, unnoticed by Chloe.
As they arrive, Arcadia Bay is being restored by the Nathan Prescott Foundation. Max notices a deer, which Chloe subsequently scares away.
When they get to the diner, Max begins to break down about the deaths caused by the storm, while Chloe tries to reassure her that they can't know if they are at fault. Max then sees the diner intact in presumably a different timeline and walks towards it.
Inside the diner, Max and "another" Chloe talk to Dana with a baby in a stroller. Original Chloe eventually grabs Max's hand and is later brought into Max's timeline, where Dana mentions her mother. Back in the original timeline, Chloe tells Max about thinking her mother was there and Max mentions Dana. Chloe realizes what's happening to Max as she somehow experienced an alternative timeline with Max and becomes distressed. Max tries to apologize leading to Chloe saying it's not always about her, but also apologizing afterwards.
Chloe decides to go into her mothers' house, suggesting to try to find a chance to say goodbye. Max then sees a timeline where Joyce is alive mourning over Chloe but them holding hands doesn't make Chloe see her. When Max asks Joyce about Chloe, Joyce expressed that she doesn't think Chloe's ghost would be around her house. Chloe asks Max to tell Joyce that she is sorry and loves her. Max does so, hugs Joyce, who then replies she loves her. Back in the original timeline, Chloe thanks Max. Max's nose starts to bleed and she says she doesn't think that was the "fix".
Third Issue
Edit
The third issue is currently scheduled for release on January 30, 2019.[8] In a previous Titan Comics' Solicitation, it was originally scheduled for January 16, 2019.[9]
Fourth Issue
Edit
The fourth issue is currently scheduled for release on February 27, 2019.[10]
Fourth issue description:
"Beloved heroes Max and Chloe face one final decision, in the long-awaited and emotional climax to the story that fans have been clamoring for!"[11]
Timelines
Edit
TBA
Development
Edit
The series was announced on March 29, 2018 for release in 2018.[12] The publisher also provided an image of Blackwell Academy alongside the announcement, which will presumably serve as a setting in the comic.
"Launching with a four-part miniseries in 2018, Titan Comics' LIFE IS STRANGE™ returns readers to the setting of Arcadia Bay, offering fans the opportunity to dive back into the story of its beloved characters."

-Excerpt from Titan Comics's press release.[13]
On May 2, 2018, store listings descriptions (below) appeared that said Life is Strange: Dust will focus on Max and Chloe's future after the events of the original game.
In an exclusive article on Polygon on October 23, 2018, it was revealed that the first issue will "catch up with them a year" after Life is Strange's ending as "they start anew together". Character designs for 4 new original protagonists, Tammi, Dwight, Dex and Pixie were also shown.[14]
"But their new life is fragile, built on foundations that they haven't quite processed yet, and an invitation to honor those lost in Arcadia Bay is going to force them to face what they've tried hard to forget."
On October 25, 2018, Forbidden Planet announced an exclusive cover of the first issue for their store by Writer Emma Vieceli.[15] Vieceli will also sign the first issue at their Cambridge store on November 17.
On October 29, 2018, Titan Comic's released a trailer video with the song Look for Sympathy by Luciano Rossi, previously used for a The Awesome Adventures of Captain Spirit trailer.
In an exclusive article on GameSpot on November 6, 2018, a few of the first lettered pages were revealed.[16]
On November 28, 2018, the comic series was confirmed to be now on-going with a new story awaiting after issue #4:
"The Life is Strange comic will return with a whole new story, as the series goes ongoing!"[17]
On December 26, 2018, a preview of the second issue was showing on comicon.com.[18]
Writer's View
Edit
With the announcement, Writer Emma Vieceli shared "some personal words" on the comic:
"Like so many players all over the world, I fell hard for Max and her story from the release of episode one, and every chapter brought more heartache, tears and emotional rollercoasters. One of the wonders of the series is that every player may have taken Max and Chloe on a unique journey, and so distilling their possible futures into one mini-series is a huge thing. Importantly, as with the game, it must always be remembered that what we're creating here is one possibility out of many. I'm excited with the story we've opted for, and I hope readers will be too!"[3]
On October 23, 2018, in an exclusive article on Polygon, Vieceli says:
"But their new life is fragile, built on foundations that they haven't quite processed yet, and an invitation to honor those lost in Arcadia Bay is going to force them to face what they've tried hard to forget."[14]
On November 7, Emma Vieceli gave her assurance to fans that the comics are not to be thought of as a true continuation of the original game:
"LiS is such an inspiring game. It's why I was so keen from the get-go to explain that this comic is A story. not THE story.[sic]"
Prior Store Listing
Edit
A listing of a comic collection called "Life Is Strange Collection" written by Emma Vieceli and published by Titan Comics for release on December 4, 2018 appeared in online stores such as amazon.com on May 2, 2018.[19][20][21] A few days later the listings have been removed from most stores and the Amazon listing's text has been changed to be more general. The release date was also changed to March 19, 2019 and later to April 30, 2019.
Original listing's description:
"Life Is Strange Collection Releasing December 4, 2018
  BY EMMA VIECELI

A thrilling, time-twisting game-changer; an unexpected, emotional rollercoaster ride! A brand new comics story in the beloved Life Is Strange universe - following Max and Chloe into a bold potential future!

In the videogame Life Is Strange, aspiring photographer Max Caulfield returned to her hometown of Arcadia Bay in order to attend the prestigious Blackwell Academy.
There, in response to a shocking and violent event, Max developed superhuman time travelling powers.
Powers that brought her back into contact with her former best friend, Chloe Price.
Powers that thrust her into conflict with all manner of threats - personal, parental, and supernatural.
Powers that led to a final, fatal decision with epic consequences - an impossible hurricane that swept into the Bay, as Max's temporal tinkering with cause and effect bore deadly fruit!

Following on from one of two possible endings of the game, Life Is Strange: Dust takes the saga of Max and Chloe into a new and uncertain future, in an all-new comic strip adventure.

No matter which ending you chose, this deep dive into Max and Chloe's potential future will thrill, shock, and surprise you all over again.

You thought Max and Chloe's story was over? Their trials are only beginning!

And in the end, dust will be all that remains...

Paperback: 112 pages
Square Enix Involvement
Edit
When asked about the listing's legitimacy by Reddit user firstfearer, Community Manager Toby Palm stated that he "can't confirm or deny anything" as he doesn't have the info himself and that "their partners are handling everything around the comics".
After a question about Square's involvement, he clarified the following, "some of the core LiS team here at SE provide feedback on bits of overall plot at certain intervals, just to make sure that it doesn't go completely off the rails, but it's not the same kind of relationship that we (SE) had with Deck Nine or DONTNOD when working on the games. To clarify - The latter "game dev" relationship being one where we work closely together on a daily basis. :)".[22]
Canon Inconsistencies
Edit
First Issue
Edit
Chloe Price appears to be right-handed in this issue. She uses her right hand to spray-paint a large mural and appears to be drinking beer from her right hand later in the issue. Chloe was confirmed to be left-handed by Co-Director Michel Koch on Twitter and she uses her left hand in a dominant way throughout the majority of the original game (i.e. smoking, drinking, shooting a gun, wrestling a weapon from somebody; keeping commonly used things [car keys, cigarettes, and money] together in the left pocket).
(Titan have been informed about the inconsistency.)
When viewed upside-down, the cover for issue #1 shows Max in front of the tornado. The reprinted version from December 19, 2018[23] features a change in cover; the upside-down view now shows both Max and Chloe facing the storm.[24]
Emma Vieceli and Claudia Leonardi previously drew fan art for Life is Strange.[25][26] Viecli worked with Square Enix on a series of "promotional images" for the game.[27]
In the first issue, there are subtle details in the panels that give away changes in the timeline. Here is an example. With regards to this, Emma Vieceli stated on her Twitter feed that, "It's been so brilliant seeing readers of our first #lifeisstrange issue pick up on the wibbly timelines, you guys are amazing. So, bathroom scene: who spotted this one? :) I made life hard for Claudia with how subtle some shifts were & she rocked it!"

In the second issue, Chloe's T-shirt design is seen to change while she's inside her truck with Max and again when she's outside trying to fix her truck after it has broken down. The originally seen design appears to be a skull with trees growing out of the top and grassed-over areas. The second one we see is an Eye of Providence inside a pyramid with a red beam coming directly down from it.

In Life is Strange 2, which is set in October 2016, Arcadia Bay is still in ruins from the storm. In the comic, the Prescott Foundation are said to have donated towards the rebuilding of the town which is said to take many years.
First Issue
Edit
Second Issue
Edit
Third Issue
Edit
Forth Issue
Edit
Lettered Pages
Edit
External Links
Edit
References
Edit