Welcome to the Life Is Strange Wiki, an encyclopedia maintained by fans of DONTNOD Entertainment's episodic video game, Life Is Strange. Available on PC, Mac, PS3, PS4, Xbox 360 and Xbox One, Life Is Strange aims to revolutionize choice-based games by allowing the player to manipulate time. The protagonist is Max, a photography senior who discovers she can manipulate time after rewinding it to save her old best friend, Chloe Price. As Max uses her new ability and gets premonitions of a storm coming to Arcadia Bay, she and Chloe try to find out what happened to Rachel Amber, who mysteriously disappeared.
---
This wiki aims to archive Life is Strange and other related materials. Please help us by editing and adding new useful information to any of our articles! We are currently editing over 329 articles on this wiki.
---
LIFE IS STRANGE is a trademark of Square Enix Ltd. Square Enix and the Square Enix logo. DRAGON QUEST, KINGDOM HEARTS, FINAL FANTASY, TOMB RAIDER, SPACE INVADERS. SQUARE ENIX, and the SQUARE ENIX logo are registered trademarks or trademarks of the Square Enix Group. All other trademarks are the property of their respective owners.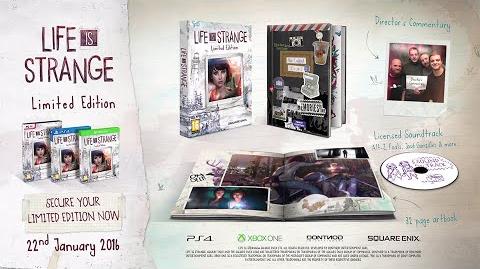 If you would like to affiliate with us, please contact an Administrator.
++LOOK OUT FOR NEW POLLS!++
Who's your favorite character?
Which is your favorite episode?
Which episode ending did you like the most?
Forum Activity