Max's Journal includes her diary, details on some characters, notes on items of Max's interest, optional photos, and SMS messages. Her journal pages are full of scribbles, drawings, watercolour doodles, stickers and other memorabilia such as photos, booklets, postcards, notes, stamps or calendar pages.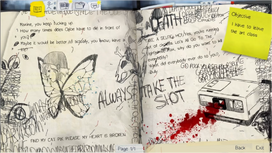 In this episode, Max must use her journal to escape the clutches of
Jefferson
briefly before travelling to another alternate situation in which the journal is burnt, disabling her from using it against Jefferson.
In Max's nightmare scenes, opening the journal reveals violent and contorted versions of her entries which become laced with Jefferson quotes. This also affects her pictures, texts, and character notes.
Ad blocker interference detected!
Wikia is a free-to-use site that makes money from advertising. We have a modified experience for viewers using ad blockers

Wikia is not accessible if you've made further modifications. Remove the custom ad blocker rule(s) and the page will load as expected.