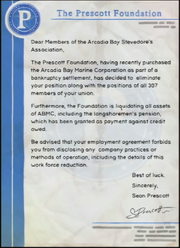 The Prescott Foundation is a foundation in Life is Strange: Before the Storm. Currently the only known member is Sean Prescott.
In Episode 5 of Life is Strange: Season 1, there is a receipt found in the Dark Room; it lists several electronic devices purchased from SpyGuy, paid for by The Prescott Foundation.
The Prescott acquired the Arcadia Bay Marine Corporation from bankruptcy and subsequently shut it down. Drew North's father was previously an employee of it and due to his poor family, he bullies Nathan Prescott because of this.
The foundation is mentioned in the "special thanks" section of the The Tempest website with the word "especially".
Ad blocker interference detected!
Wikia is a free-to-use site that makes money from advertising. We have a modified experience for viewers using ad blockers

Wikia is not accessible if you've made further modifications. Remove the custom ad blocker rule(s) and the page will load as expected.