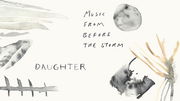 The soundtrack for Life is Strange: Before the Storm consists of licensed tracks and an original score composed by the English indie band Daughter. The bonus episode, "Farewell"'s original score was composed by Mike Reagan.
A standalone album featuring Daughter's work for the game entitled "Music from Before the Storm" released digitally on September 1, 2017, one day after Episode 1's release.[1] Daughter announced an exclusive limited-edition, gatefold vinyls of the score on March 6, 2018[2], releasing in select record stores across the United States on April 21 as a part of Record Store Day[3], and online in UK regions the following week, April 28[4].
The licensed tracks feature songs from bands/artists such as Speedy Ortiz, Lanterns on the Lake, Koda, Broods, Brody Dalle, and Wolf Alice. The bands/artists are mainly in the genre of indie rock and are American, English, Belgian, New Zealand and Australian.
Licensed Tracks
Edit
Original Score
Edit
Daughter - Witches (When James Amber tells to Rachel the truth about her mother, entering the mill to find Sera)
Daughter - All I Wanted (When Chloe and Rachel lie in bed together)
Daughter - Hope (When Chloe gets in the shower)
Daughter - Burn It Down (When Chloe takes Rachel to the hospital)
Daughter - I Can't Live Here Anymore (During the confrontation with Eliot Hampden, when David propose to Joyce, in the campus scenes of the ending montage)
Daughter - Flaws (Briefly in the last scene in Rachel's hospital room before the final choice, after the final choice if Chloe tells the truth)
Daughter - Glass (When Rachel leaves in Chloe's truck and at the lighthouse scene at the end)
Daughter - Voices (During the post-credits scene)
Mike Reagan's original score
Original Music
Edit
Trailers
Edit
Official Releases
Edit
Music from Before the Storm (Daughter)
Edit
Limited Edition Soundtrack
Edit
Daughter – Flaws
Koda – I Don't
Daughter – Glass
Ben Howard – Black Flies
Daughter – Youth
Lanterns on the Lake – Through the Cellar Door
Daughter – All I Wanted
Speedy Ortiz – No Below
Daughter – A Hole in the Earth
Broods – Taking You There
Daughter – Burn it Down
Wolf Alice – Bros
Daughter – No Care
Brody Dalle – Don't Mess With Me
Pretty Vicious – Are You Ready for Me
Playlists
Edit
TBA
External Links
Edit
References
Edit