SpyGuy is a brand of surveillance electronics in Life is Strange. It is first mentioned by William Price at the end of Episode 3, when Max Caulfield hides his keys in the alternative timeline. The keys are equipped with a remote beep chip from SpyGuy. In an attempt to find them, William says he will never order from SpyGuy again after no beep is audible because Max hid his keys either outside the house or in a sink. The brand is mentioned again in Episode 5, as Max can find a receipt for surveillance equipment paid by the Prescott Foundation lying on a table in the Dark Room. The text of the receipt is as follows: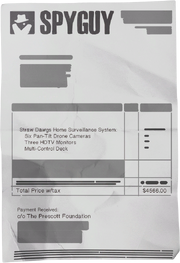 Straw Dawgs Home Surveillance System:

Six Pan-Tilt Drone Cameras
Three HDTV Monitors
Multi-Control Deck

Total Price w/tax: $4566.00

Payment Received:

c/o The Prescott Foundation
Ad blocker interference detected!
Wikia is a free-to-use site that makes money from advertising. We have a modified experience for viewers using ad blockers

Wikia is not accessible if you've made further modifications. Remove the custom ad blocker rule(s) and the page will load as expected.