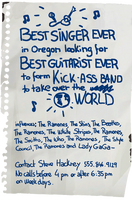 Steve Hackney is a student at Blackwell Academy. He is in a band advertising for more members. The advertisement can be seen on a noticeboard in the Blackwell Hallway in episode one, episode two and episode five. It reads as follows:
BEST SINGER EVER in Oregon looking for BEST GUITARIST EVER to form KICK-ASS BAND to take over the WORLD


influences: The Ramones, The Shins, The Beatles, The Ramones, The White Stripes, The Ramones, The Smiths, The Who, The Ramones, The Style Council, The Ramones and Lady GaGa

contact Steve Hackney 555.846.9129 No calls before 4 pm or after 6:35 pm on weekdays
The Ramones seem to be so important to him that he mentions them 4 times.
Ad blocker interference detected!
Wikia is a free-to-use site that makes money from advertising. We have a modified experience for viewers using ad blockers

Wikia is not accessible if you've made further modifications. Remove the custom ad blocker rule(s) and the page will load as expected.