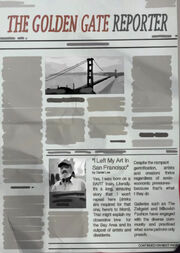 The Golden Gate Reporter is a newspaper seen in the Zeitgeist Gallery in San Francisco. The only known article is about Daniel Lee and his interpretation of the state of art in San Francisco.
"I Left My Art In San Francisco"

by Daniel Lee

Yes, I was born on a BART train. Literally. It's a long, amazing story that I won't repeat here (drinks are required for that one; here's to Mom!). That might explain my obsessive love for the Bay Area and its outpost of artists and dissidents.

Despite the rampant gentrification, artists and creators thrive regardless of socio-economic pressures - because that's what they do.

Galleries such as The Zeitgeist and Milkovich Fashion have engaged with the diverse community and practiced what some patrons only preach.

CONTINUED ON NEXT PAGE
Ad blocker interference detected!
Wikia is a free-to-use site that makes money from advertising. We have a modified experience for viewers using ad blockers

Wikia is not accessible if you've made further modifications. Remove the custom ad blocker rule(s) and the page will load as expected.