The Great Northwest is a newspaper. It appears for the first time in the original game, and makes a second appearance in The Awesome Adventures of Captain Spirit.
Life is Strange
Edit
There is an article about the Prescotts, used by Max and Chloe in their investigation. Another known issue, found by Max in "Polarized", is about the October Road trips, the newly opened drive-in and Shakespeare.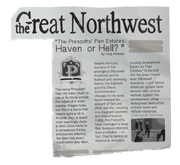 The Prescots' Pan Estates: Haven or Hell?

By Craig Kennedy

The name "Prescott" may not mean much to you or to those outside the edges of a small coastal Oregon town, but this is a name that means quite a bit in Arcadia Bay, a quaint town seemingly stuck in time. Once home to a prosperous fishing and tourism industry, the town has seen much better pay days, despite the local success of the prestigious Blackwell Academy and its football and swimming teams, the Bigfoots and the Otters. Environmental changes to the area have reduced the amount of fish and other sea life, resulting in stagnant economy and limited tourism. Oddly, the Prescotts have managed to keep their business interest quite profitable — in fact, they're behind an expensive, exclusive housing development know as "Pan Estates," to be built into the deep forest near Blackwell Academy. Local Native American groups have already filed various motions against the development, citing widespread destruction of tribal lands and natural resources.

Continued on Next Page
Captain Spirit
Edit
An article about riots and protests against the police can be found on the kitchen table in the Eriksen Household.
LOCAL POLICE FACE MORE PROTESTS IN SHOOTING DEATH

(Seattle) Small riots and protests have continued to mount one month after the unexplained deaths of a local man and a police officer. An official statement from the police has not been released, but sources say the man appeared to have been shot by the officer, while the latter's cause of death remains unknown.

The Seattle Police Department have been accused by civil-rights groups of mishandling the incident, which led to the public protests and rioting.