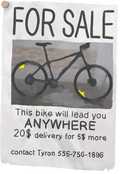 Tyron is a student at Blackwell Academy. He is selling his bike and has posted an advertisement in the Prescott Dormitory. It can be seen when Max visits the hallway of the dormitory in Episode 1 and Episode 2, and it reads as follows:
FOR SALE

This bike will lead you ANYWHERE

20$ delivery for 5$ more

contact Tyron 555-7561896
Ad blocker interference detected!
Wikia is a free-to-use site that makes money from advertising. We have a modified experience for viewers using ad blockers

Wikia is not accessible if you've made further modifications. Remove the custom ad blocker rule(s) and the page will load as expected.